How to start a fintech business and why a good business idea is not enough
One of the founders of Paysera, Kostas Noreika, speaking at the Changer International Business Club. Photo credit: Igor Timofeev
Starting your own business does not necessarily mean you have to start it from scratch or have a unique business idea. Not to mention that today, during times of economic downturn, starting a business from scratch can be incredibly risky. However, there is a possibility to launch a company with a shortcut that can quickly put you in the fast lane. One such shortcut is adopting someone else's business and adapting it to your country.
In this blog post, we describe how exactly such a model works in real life and how you can take advantage of it this very moment.
It's not a good time to start a business from scratch
Some of the biggest barriers stopping many people from starting their own company – is not having a business idea, not knowing where to start, and fearing that establishing a company will require large investments and several-year-long preparations of technology and infrastructure. And these concerns are valid.
Let's focus on the fintech industry, for example (although everything applies to any startups really). Starting a new fintech now is indeed a very risky, if not detrimental, move. Currently we are living in a trembling economy – where the financial crisis and global pandemic are just the tip of the iceberg. Competition, especially in the fintech sector, is humongous – it might take years to catch up with the existing players, not to mention the new competitors that arise almost daily. Prices of the IT sector today are higher than ever before, and the anti-money laundering and other legal requirements are close to farcical. But that doesn't have to be the case.
You don't even need to have a business idea
Mark Twain said that there is no such thing as an original idea. However, he stressed that one can take already existing ideas and turn them into something new or different. That's exactly what we are offering you to do with ours – to take an already existing and successful fintech company and bring it to your own country in order to take a shortcut in this competitive business race.
After successfully applying our partnership model to accelerate our growth in the past, we now invite more promising entrepreneurs to become part of the Paysera Network and adapt payment solutions to their own countries. Following our success story in Lithuania, partners from Estonia, Latvia, Bulgaria, Romania, Spain, Albania, and Kosovo are now challenging the banking norms in their environment. And that's exactly what we mean by saying that you don't have to start a business from scratch or have a unique idea – you can simply adopt ours.
Paysera is an international fintech that originated from Lithuania – a country that is today known as a cradle of startups. We are continuously expanding our business globally via local partners by providing them with ready-made payment solutions and equipping them with our licensing framework. So yes, we give them a bit more than just a plain business idea or software.
Whether you are in Singapore or North Macedonia, Armenia or Mexico, Kazakhstan or Tunisia, you can join the Paysera Network to tailor Paysera's payment solutions to your market.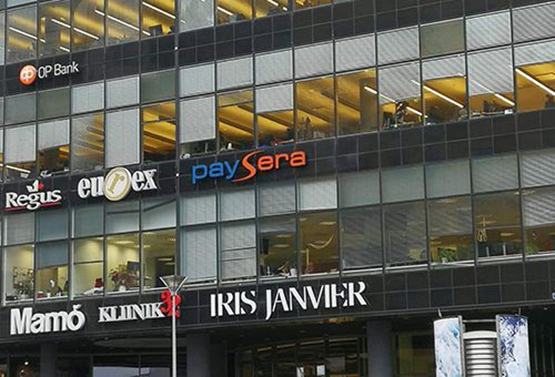 Paysera office in Tallinn, Estonia
But first, let's get acquainted!
Paysera LT is an EU licensed Electronic Money Institution (EMI) and the very first Lithuanian fintech. This license means that we have all the means to act and provide e-money services in all the EU/EEA countries, which is a market of more than 515 million people.
Just like many digital banks, we offer a wide spectrum of services, ranging from competitive currency exchange rates, a top-notch finance management app and debit cards, to a ticketing platform for event organizers, and much more. But most importantly, today Paysera is the largest payment gateway provider in the Baltic States, enabling e-shops to collect money online at low costs.
Not to mention that our services also include international and local money transfers. On a global scale, 6 billion euros worth of transactions are executed via the Paysera online banking per year – money remittances are available in 25 currencies and to/from 180 countries around the world. All of this makes us an attractive alternative to regular banks and the go-to finance institution when you want a reliable, online-based payment partner.
Our history, your future
Difficult times are known to encourage budding entrepreneurs who want to start a business that changes the system – whether it's an economic, political, or societal status quo in their country or globally. Paysera arose and joined the financial market back in 2006. Then Lithuania still had its own currency and cash was the default payment method when shopping. There were not many e-shops and collecting payments online was far from being a standard practice.
By partnering with banks or other fintech companies around the world and offering cheap and convenient payment gateway services with easy integration, Paysera enabled many people and businesses to cut down on their money transfer expenses, thus becoming the leading fintech in Lithuania.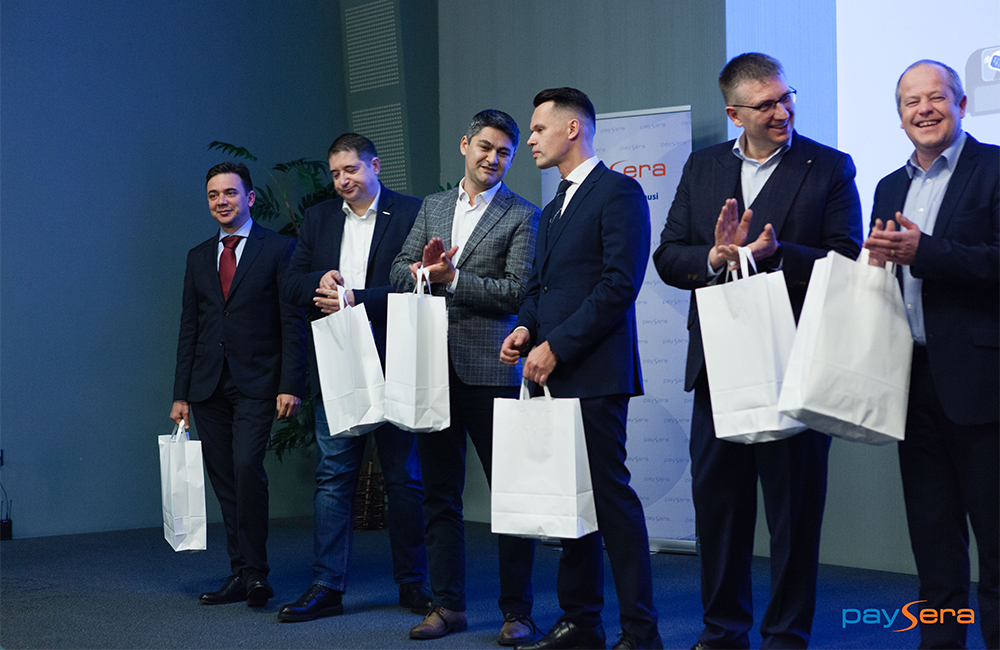 Paysera partners from Bulgaria, Romania, and Latvia during the Paysera Annual Conference 2020
Waiting for better times?
Despite all the risks of starting a company now, history actually shows that downturns are quite good for generating business ideas. After the 2008 financial crisis, Instagram, Uber, WhatsApp, and other big companies were launched. And in our case, we are talking about a versatile fintech that doesn't need to do everything from the beginning, so the ball is in your court.
Secondly, people are more willing to change their habits during financially difficult times, so it's easier to lure them from their current financial service provider. We can already see this shift happening – during the global pandemic, when many businesses faced challenges, Paysera's services grew like never before.
Finally, people want to save money now, so offering them a free current account, cheap transfer rates, and low priced and convenient payment processing services from a payment provider with 15 years of experience is the right choice in a trembling economy.
Which country is good for starting a fintech?
We believe cultural and geographical attributes are a very important factor in forming financial habits. Geography shapes customer behaviour, therefore we believe that a wisely chosen partner can be a key factor in the development of our payment solutions abroad.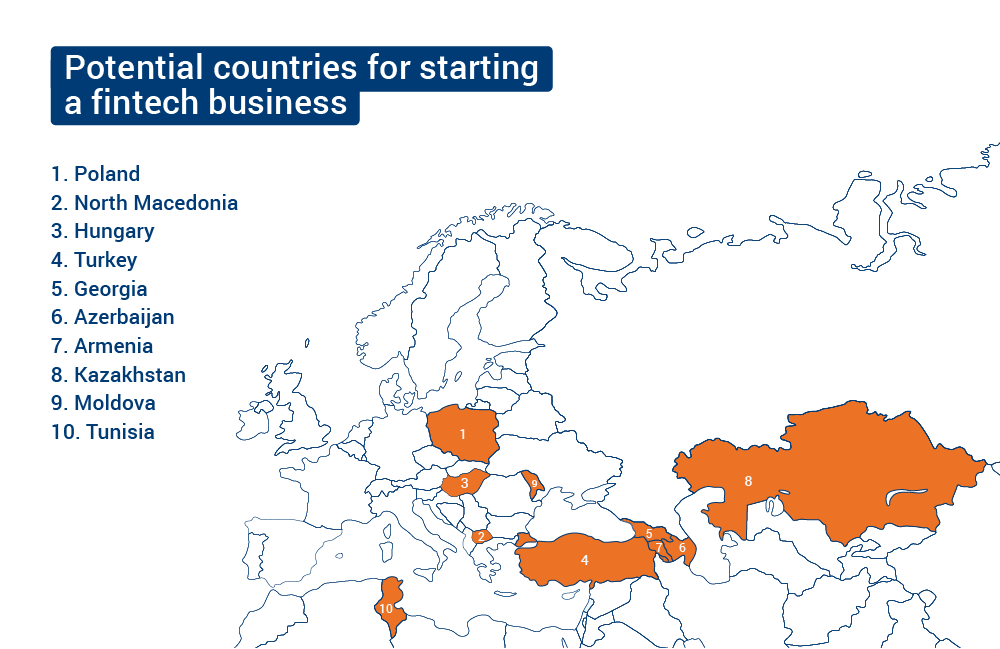 Looking into the current economic and digital payment situation, we see that countries such as Poland, North Macedonia, Turkey, Georgia, Azerbaijan, Armenia, Kazakhstan, and Moldova have a huge potential in the digital banking area and could benefit from the services Paysera provides.
So, what's your starter kit?
OK, so here you are, determined to bring Paysera into your country. The question is – what do you have so far and what are you missing?
Long story short, we will give you access to everything we have, and that will definitely be more than just a business idea – from a payment-processing platform and access to a multinational infrastructure of banks and other partners, to all the necessary training and support, as well as marketing and sales materials.
Not to mention continued support by delivering software updates and improvements, helping to launch new services and products, and providing the help of IT professionals, as well as supporting you in the preparation process for a financial license application. And obviously, you would be granted exclusivity for your country or region.
In exchange, we want to trust you 100 per cent. So, from you we will expect to have experience in managing a business (preferably a successful one) and have a crystal-clear reputation. But most importantly, we want you to strive to enrich your local payment market and shake the system by innovating and challenging it.
We appreciate a smooth and steady process compared to a rushed one. So bear in mind, it might take time. But in the end – it's worth it.
You will also need to be a financially secure person. We ask new partners to pay an entrance fee of 30 000 EUR, which includes service adaptation and training, and to make an initial investment, starting from 300 000 EUR – which is basically you investing into your own company and thereby ensuring that our service in your country will be presentable and of top-notch quality.
We are living in exciting times and there is no better feeling than to see that our services are needed despite the rapid changes happening across the world. We believe that our business is about much more than money – it enables people to fulfill everything from their daily tasks to their dreams, it crosses borders in times of isolation, and provides hope and the necessary tools for businesses to reach their clients and vice versa. If this gives you goosebumps, reach out to us.
Start a fintech business in your country!
Contact us by email [email protected]
or fill out a form by clicking the button below.